Poutine is the unofficial national dish of Québec. I would not say it's the most traditional food of my province, but it surely the most known and famous one! Even if many restaurants have their own version of it, poutine will always be the ultimate comfort food.
You can count on poutine to warm you up on a cold winter day or to fill you up after a night where you had too much drinks. So, where is the best poutine in Quebec City? This is truly a sensitive question! Everyone has their own opinion on the subject. For the purpose of this article, I will focus on Old Quebec and its surroundings. Let me share with you my personal favorite top best poutine in Quebec City.
I'm a native French speaker.  English is not my first language. I learned English at school, but I mostly learned it by watching to The Simpsons and listening to rock/metal music. So, I might have made a few mistakes in this blog post.  If I did, please tell me, it's the best way I can improve!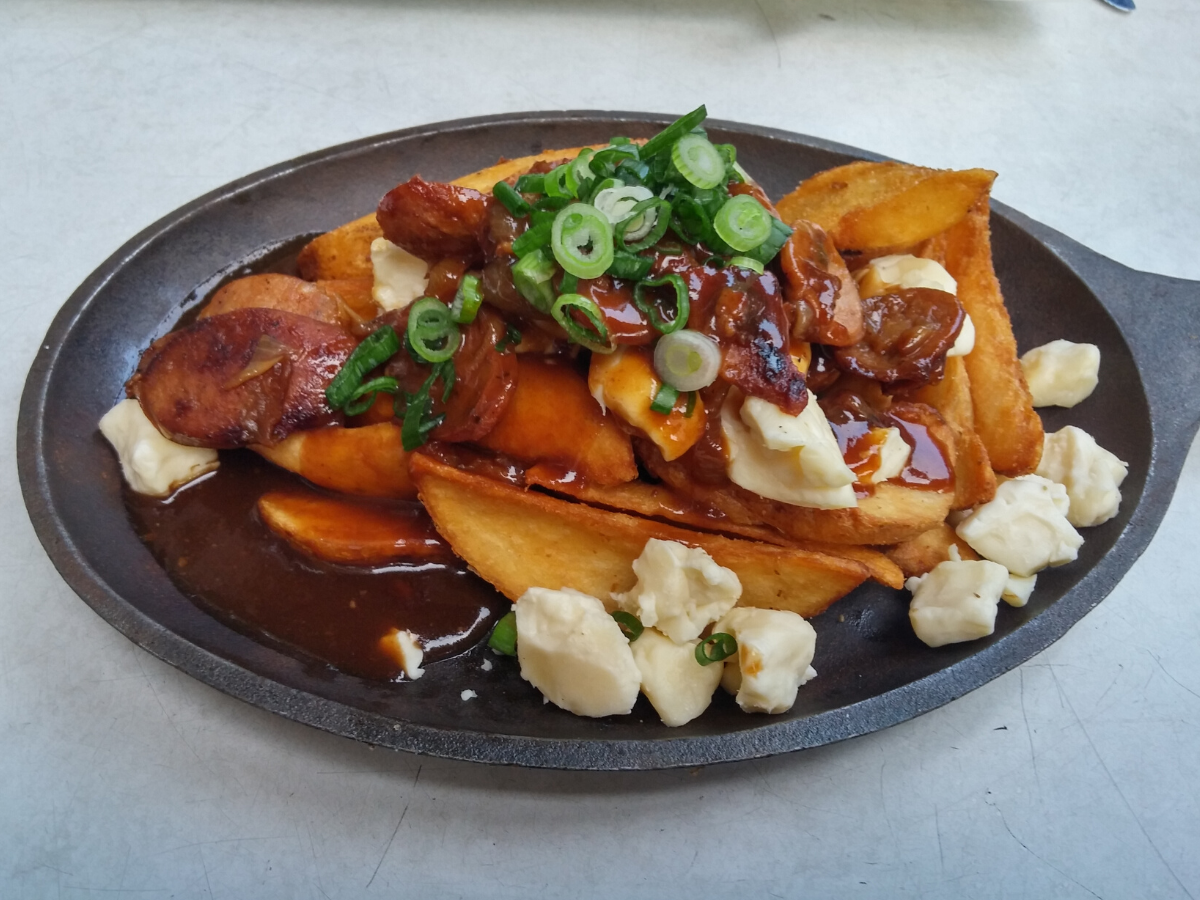 What is poutine?
It is a meal consisting of french fries, fresh cheese curds and topped with hot beef and chicken stock gravy. The dish was invented in the 1950's in a small city between Quebec City and Montreal ( two cities are still debating on who invented it first) and has long been associated with our cuisine. For many years, it was negatively perceived and mocked, and even used as a mean of stigmatization against the Quebecois. Eventually, poutine became celebrated as a symbol of Québécois cultural pride.
What makes a good poutine?
As a quebebecoise, I've seen my fair share of bad poutines. A great poutine has chunky cheese curds; the ones that keep their shape and don't melt under that thick, hot gravy. Ho and the cheese needs to squeak. No squeaky cheese, no good poutine. A great poutine also has thick, solid french fries. The kind that still has the potato skin on them. Then, the most important part of this unique dish is without a doubt its gravy. It should be thick but not too thick, just light enough so that all the french fries get coated in. Most chefs will prepare their poutine gravy with a mix of chicken and beef stock. The temperature is also important here: the gravy should be served hot!
The best poutine in Quebec City
Reminder: for the purpose of this article, I will focus on Old Quebec and its surroundings. There are amazing poutines all across my city but if it's your fist time visiting Quebec City, you'll probably want to find one in the old historic district or nearby. Let me share with you my personal favorite poutines around Old Quebec.
The classics
Chez Ashton
Chez Ashton is a popular fast food restaurant in Quebec City and it has been a locals' favorite for decades. Many locals will say it's the best poutine in Quebec City because of its constancy. You can be sure that you are going to have a good quality poutine at Ashton's. Ashton Leblond (only 21 years old at the time) opened its first "location", a traveling snack cart, in 1969. The business grew in popularity and in 1979, Leblond was able to open a restaurant with a dining room open year-round. Today, the franchise has grown to include 24 restaurants in the Quebec City region. He is still the owner of the company today. There is one Chez Ashton in Old Quebec located on Côte du Palais Street and one outside the fortifications on Grande-Allée Street. For a classic poutine in its most basic (but delicious) form, Chez Ashton is the place to go!